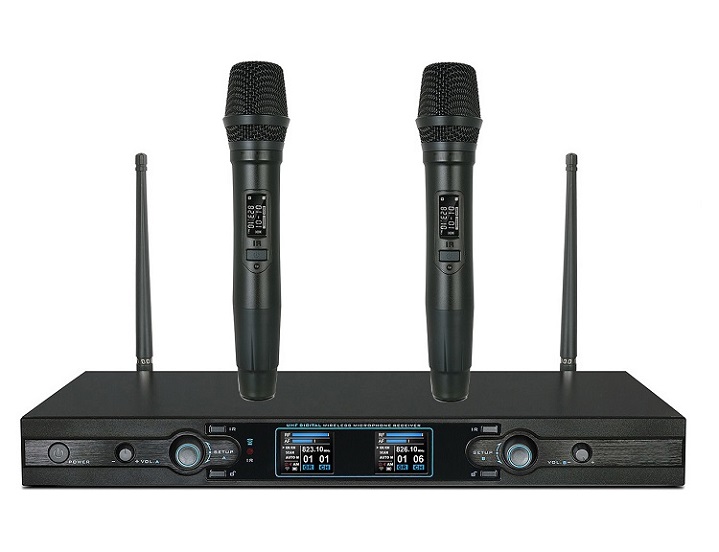 UHF Dual Rechargeable Wireless Microphone System
Description
Featuring two rechargeable handheld microphones, this wireless microphone system is an ideal solution for indoor personal use. The Boly 9200 wireless microphone system operates on the UHF frequency band that renders a clear and interference-free sound. Featuring dual antennas, the Boly 9200 wireless microphone system offers a clear signal reception. This wireless microphone system also includes a wireless charger that has the ability to charge both microphones at the same time. This wireless microphones have individual volume controls for accurate vocal balancing ensuring a high-quality sound no matter which environment you are in.
Package includes:
•(1) Dual channel UHF receiver
•(2) 2 handheld microphone
•(3) one rechargeable cable and 2 rechargeable Lithium battery.
•(4) 1/4" audio cable
•(5) AC-DC adapter
•(6) Manual
Main Features
1.UHF band(630-660Mhz).
2.Digital audio transmission technology.
3.Unique digital 16 bit ID pilot technology, avoid interference even same frequency.
4.Ultra-short audio latency.
▪ Audio sampling mode: 48KHz.
5.Frequency response:30-20KHz.
6.With intelligent mute function.
7.Receiver using TFT color display and menu settings.
8.Transmitter with LCD display.
9.Handheld microphone can be rechargeable.
10.Auto frequency scanning and frequency spectrum display.
11.Suitable for KTV rooms, conference rooms, lecture and family entertainment.
12.Ideal distance, 40m.
Specificaiton of Receiver
1.Carrier Frequency: UHF630-660MHz
2.Bandwidth: 30MHz
3.Channel Bandwidth: 300KHz
4.Preset Group: 15 group, 6 frequencies in each group
5.Dynamic Range: 96dB
6.Distortion: <0.1%
7.Frequency Response: 30-20KHz/±2dB
8.Signal/Noise Ratio: 96dB
9.Receiving Sensitivity: -95dBm
10.Transmission Delay: <3ms
11.Power Supply: DC12V
12.Audio Output Level: Balance 400mV Unbalance 400mV
Specification of Handheld mic
1.Carrier Frequency: UHF630-660MHz
2.Bandwidth: 30MHz
3.Frequency Switch: IR SYNC
4.Output Power: 10mW
5.Harmonic Radiation: <-50 dBc
6.Battery: 1x18500 Lithium 3.7V
7.Battery life: >8h